Holy Cow, time has flown. I follow the rss feed of this blog, even though it is my own, since Jon also writes (wrote?) here, and the lack of updates has been nagging me.

For quite some time I've been meaning to write and have had ideas swirling around the ol' noggin. But, as optometry school has taken over my life--quite literally--so many things have fallen by the wayside.

However, as the year is rapidly coming to a close, I thought I'd catch up. So, pull up a chair, grab a beverage of your choice, and let's wrap up the going's on.

Because I need continuing education credits each year, I loaded the family into the mini-minivan and drove out to Optometry's Meeting in Salt Lake City in June. And just as one cannot simply walk in Mordor, one cannot go to Utah and not go to Moab!

So, Jon and I went to Moab.


It was hotter than expected, but despite the near heat stroke, we had a fantastic time.
In late July, I finally got around to replacing my trusty Cannondale cross bike, with something more... capable. (The Cannondale cross frame is for sale, in case you are looking for a disc only cross frame)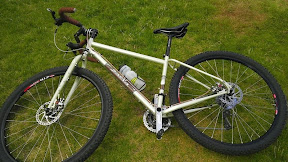 The Fargo is the perfect do-all bike. It can handle any cross country singletrack, albeit at a slower pace than my Rush. The steel frame is wonderfully smooth, and the big tires will roll over anything and can be run at ridiculously low pressures. Due to budget constraints (that whole student thing, again) I'm running tubes, but the Stan's rims are set up for tubeless.
Other than that, the rest of the year has been largely bicycle free. Sadly. I've been riding local trails, but only when time permits.
A bike like the Fargo, though, stirs the imagination and has me thinking about some multi-day bike packing trips. This thing has more water bottle bosses than I thought possible. All it needs is a small rack fore and aft, I could head off into the hills.
I have learned why I like the bluer LED lights compared to the yellower halogens of a few years ago (better color rendering). And, if any light manufacturers still read this blog, there are some frequencies that you can flash a light which will make it appear brighter than it is. Useful for tail lights.
All in all, it's been a great year, and I look forward to seeing what 2012 brings, if the world hasn't ended. But hey, on the bright side, if the world does end, I have the best bike for it, and I won't have to pay back my student loans, right?